My Goddess Necklaces are what motivated me to venture out on my own and start Creations by Moonlight. I have been making jewelry for many years, from stringing cantaloupe and other seeds and seashells when I was a child, to making jewelry from glass beads and craft wire when I was older. Then thirteen years ago I found myself having to walk away from my career and my $50,000 a year job as a Registered Medical Assistant Case Manager, because my demanding career took me away from my then young children. As a single mom I was all they had and I needed to put them and there needs first, while still being able to provide for them. Shortly after, I found my way to working for a friend who was a jeweler. Aside from the job allowing for me to be more present and available to my kiddos, it also introduced me to the magick of Gold and Sterling Silver, as well as Semiprecious and Precious stones. I was given the opportunity to design incredible pieces of art for a well established jeweler. As a result of this magical experience, with my mentor's blessing, I chose to pursue my own path by setting in motion Creations by Moonlight. It allowed my designs and creativity to be acknowledged, as I continued to let my imagination flow to combine metals and stones into magnificent creations of art.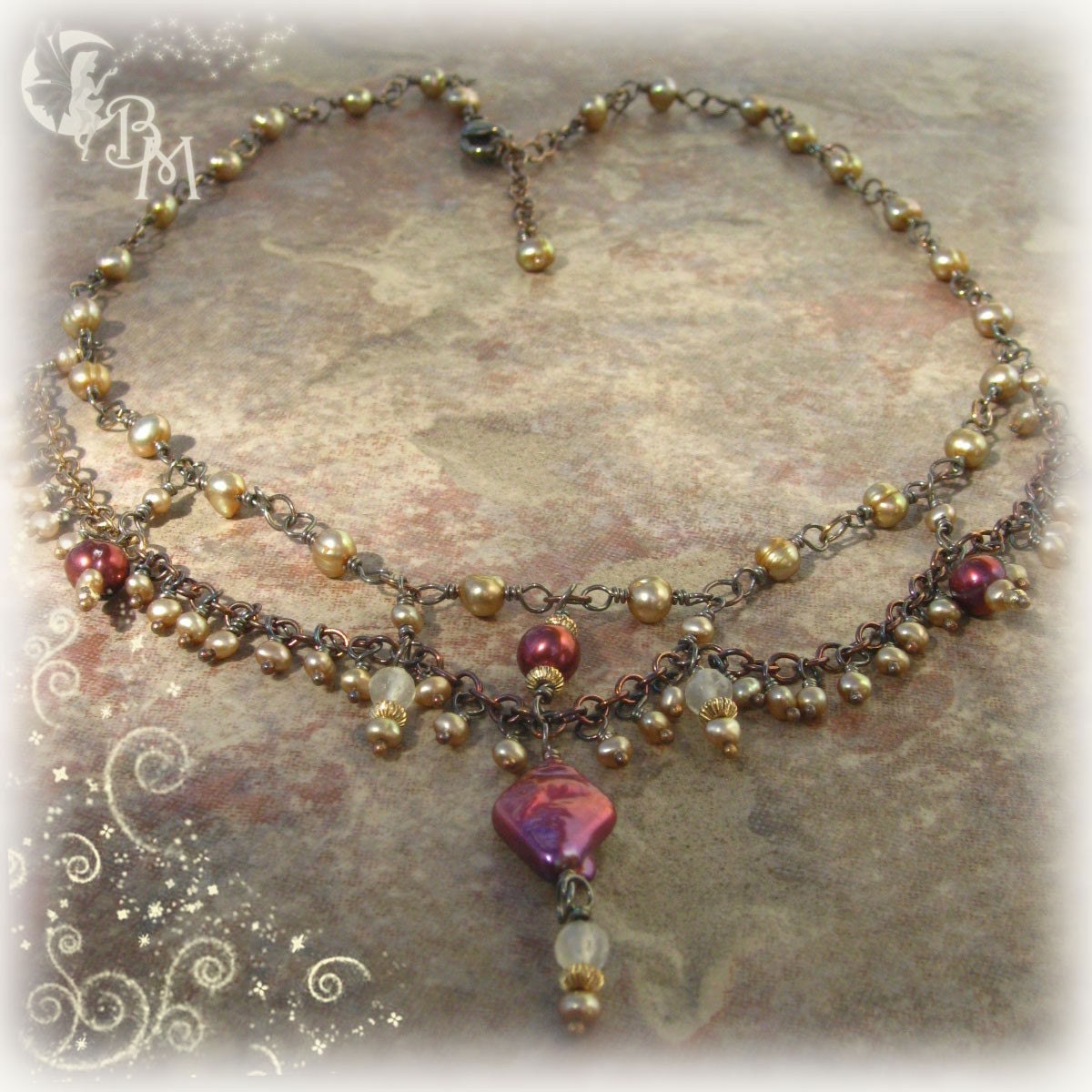 My Goddesses Necklaces were so well received that I have continued to create them in various styles and combinations. My inspiration for most of them come from belly dancing jewelry which I love for it's drappiness and layered look. For these I enjoy combining different colors and textures by using various shapes and colors of pearls, which by the way I get through my Mentor, she has the most wonderful suppliers from Japan that produce the most stunning pearls with gorgeous luster.
I also was inspired when I saw Morgana wearing a simple yet stunning piece in the TV Series Merlin.
These two pieces were what came from that inspiration, simple and long double layer necklaces.
It gives my so much joy to offer these magickal creations of art, as I allow the Goddess in me to honor the Goddess in you ♥